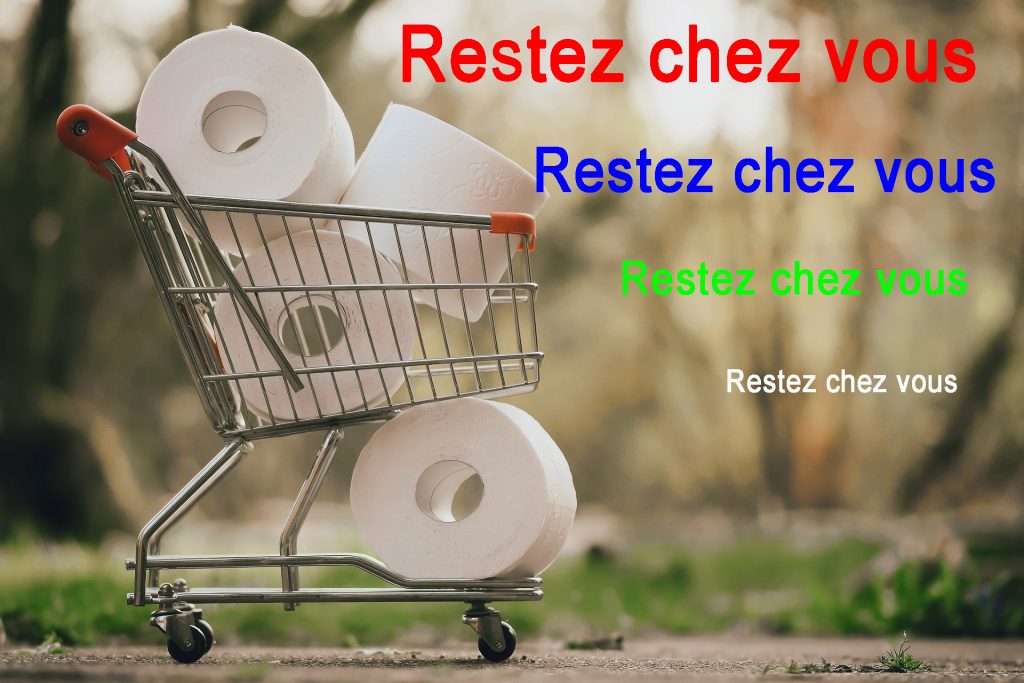 – MENS BJERGENE KALDER!
– Vi er i krig! Så kontant var meldingen fra den franske præsident, Emmanuel Macron, da han tronede frem på tv-skærmen, hvor han talte til hele nationen.
Det er mandag den 16. marts kl. er 20:30 og det er netop meddelt, at 148 personer er døde, mens 6.633 er registreret smittet med Corona.
Regeringen har forgæves forsøgt at forhindre, at virusset spredte sig i den franske befolkning. De har appelleret til folk om at blev hjemme, lukket caféer, restauranter, skoler, turistattraktioner og "unødvendige" forretninger siden fredag, for at forhindre tallene i at stige.
Men franskmændene, hvis ynglings disciplin er 'Art de vivre' – kunne ikke holde sig hjemme. De kindkyssede stadig med vennerne på gaden og dem de havde kær. På gadehjørnerne stod de, med den sprøde baguette under armen, og talte om den frygtelige virus, som var kommet fra Kina. På caféen mødtes de endnu over en pastis, mens de diskuterede de sidste Rugby resultater.
INDESPÆRRET I FRANKRIG!
– Fra i morgen klokken 12 bliver der derfor indført udgangsforbud i hele landet. I første omgang vil det vare i 15 dage, men det kan blive forlænget, lød præsidentens røst ud gennem højtaleren.
Udgangsforbud – jeg mener UDGANGSFORBUD! ligesom dengang under krigen? Jeg kunne næsten ikke få vejret. Jeg havde kun hørt mine bedsteforældre fortælle om udgangsforbud. De fortalte om ensomheden, om isolationen, om frygten!
Jeg husker de fortalte, hvordan vinduerne skulle dækkes til. De havde ikke råd til mørklægningsgardiner, men måtte bruge sort papir. I trappeopgangen blev deres el-pære farvet sort, så kun et lyshul på størrelse med en 25-øre kunne slippe ud! Når de, en sjælden gang, gik på gaden havde de den ene fod på fortovet, den anden i rendestenen for på den måde at finde ud af, hvor de gik!
Når sirenerne lød skulle de….heldigvis bragte Gert mig tilbage til virkeligheden. Nu var der jo ikke tale om mørklægning og krig – men 'blot' om udgangsforbud.
Nåh ja….men det var da også slemt nok!
Macron talte i 20 minutter! Han fortalte, at det kun var tilladt at gå ud for at tage på arbejde, foretage nødvendige indkøb og lægebesøg, 1 times motion om dagen max 1 km fra hjemmet. At der skulle holdes fysisk afstand til hinanden. Alle som havde brug for at gå ud, skulle medbringe et dokument, som berigtigede, at det var nødvendigt at dispensere for udgangsforbuddet. Kunne man ikke fremvise dette gyldige dokument, til én af de 100.000 politibetjente, som var indsat til lejligheden, ville man få en bøde.
"Restez chez vous" gentog Macron igen og igen, samtidig med at han meddelte, at staten nu ville anvende hoteller til at indlogere sundhedspersonale og smittetilfælde. Vi kiggede på hinanden – hoteller – jamen det var jo os!
Jamen nej – det kunne ikke være rigtigt! Selvfølgelig ville vi hjælpe, men vi var jo et ganske andet sted! Vi var ved at renovere og ved at planlægge ankomst af første gruppe!
– det blev dog aldrig nødvendigt at stille vores hotel til rådighed.
Heldigvis havde Axat ikke haft nogen tilfælde. Men i byen Quillan, 11 km fra Axat, var et ægtepar i slutningen af 70'erne, blevet testet positive, efter hjemkomsten fra en rejse til Egypten. Parret dødede senere af de komplikationer, som fulgte af Corona.
GLÆDEN I INTETHEDEN
Pludselig blev verden vendt på hovedet. I Axat, med sine blot 650 indbyggere, havde folk forstået budskabet. Iført masker og handsker gjorde de kun korte og nødvendige indkøb hos købmand, bager og slagter.
De mennesketomme gader og stilheden var slående. Vi prøvede at fortsætte vores planlægning, så vi var klar til at modtage vores første gruppe den 8. maj. Men snart måtte vi indse, at det var umuligt.
Gert, som var i gang med renovering af to værelser, kunne pludselig ikke komme videre. Han manglede materialer og alle forretninger var lukket. Jeg var i god dialog med vores grupper, som havde planlagt ankomst i både maj, juni og juli måned.
Det var frustrerende ikke at vide, hvordan verdenen så ud om nogle måneder og uvisheden om, det var muligt at gennemføre rejserne var rigtig træls?
Vi tilbød vores gæster gebyrfri ombookning til 2021 og heldigvis var alle indstillet på det. Vi fik dejlige respons tilbage og specielt én rørte os meget;
'Kære Chéri og Gert. Jeg og min gruppe ombooker til næste år. Kan det blive samme uge er det fint, ellers flytter I os bare så det er bedst for jer – vi VIL ned til jer'.
DET glæder virkelig vores hjerte at vores gæster viser os denne tillid. Deres loyalitet, er ingen selvfølge og vi er dem dybt taknemmelige, både for deres forståelse og for beviset på, at de glæder sig så meget, at de gerne booker langt ud i fremtiden.
Men virkeligheden i Axat var præget af lange dage – vi måtte finde på noget at lave. Pille gardiner ned og vaske dem, feje i gården, og rydde op i kælderen…..så var der gået en time.
Ok – vi måtte finde på noget andet, hvad havde vi i gemmerne, som kunne bruges?
Der var lidt maling, noget træ, et par lamper! – der var sørme også lidt lak og en rest klinger, som kunne bruges i kafferummet.
EN NY DAG I STILHED…OG ATTER EN…
Jeg morgenløber – jeg overtræder udgangsforbuddet, fordi jeg løber 7 km., til gengæld gør jeg det kl. 05:00 om morgenen, så jeg er sikker på, at det kun er mig, fuglene og de vilde geder som er oppe!
Vi hører om folk, som får bøder fordi de går uden seddel, fordi de kører to i en bil, fordi de går en tur (det regnes ikke for motion). Droner holder øje på strandene, uniformerede betjente iført ski, tager på skisportsstederne for at se om nogen har tilladt sig at nyde en dag på skibakken. Et par stykker har fået fængselsstraf – den længste er 6 måneder, for gentagende gange at overtræde forbuddet.
Jeg skriger af længsel – kigger ud – stilhed! Men ikke den der dejlige larmende stilhed. Nej, denne stilhed er kvælende, nærmest som om hele verden holder vejret.
Bjergene har skiftet farve, små jubelglade grønne træer fryder nu mit øje. Det smerter mig at vide, at mange smukke blomster nu lever deres farverige liv, uden at jeg får lov at nyde deres skønhed. Jeg længes. Længes efter de smukke orkideer, abrikostræerne, ferskentræer og mimoserne, som allerede er afblomstret. Jeg længes efter storheden i bjergene og nu'et med naturen.
8 uger – OTTE UGER – skulle der gå inden udgangsforbuddet blev ophævet. 8 uger siden den sidste vandretur i bjergene. 8 uger, hvor vi kun har forladt byen to gange. 8 uger, hvor mit liv har stået samme sted.
Uagtet at det på ingen måde kan sammenlignes for øvrigt – tror jeg, jeg har fået en lille-bitte-bitte indsigt i, hvordan mit danske folk må have følt det under krigen. Den utryghed, ængstelse, væmmelse, panik og uklarhed, der omgiver ens liv, når man forbydes at færdes frit – er skræmmende.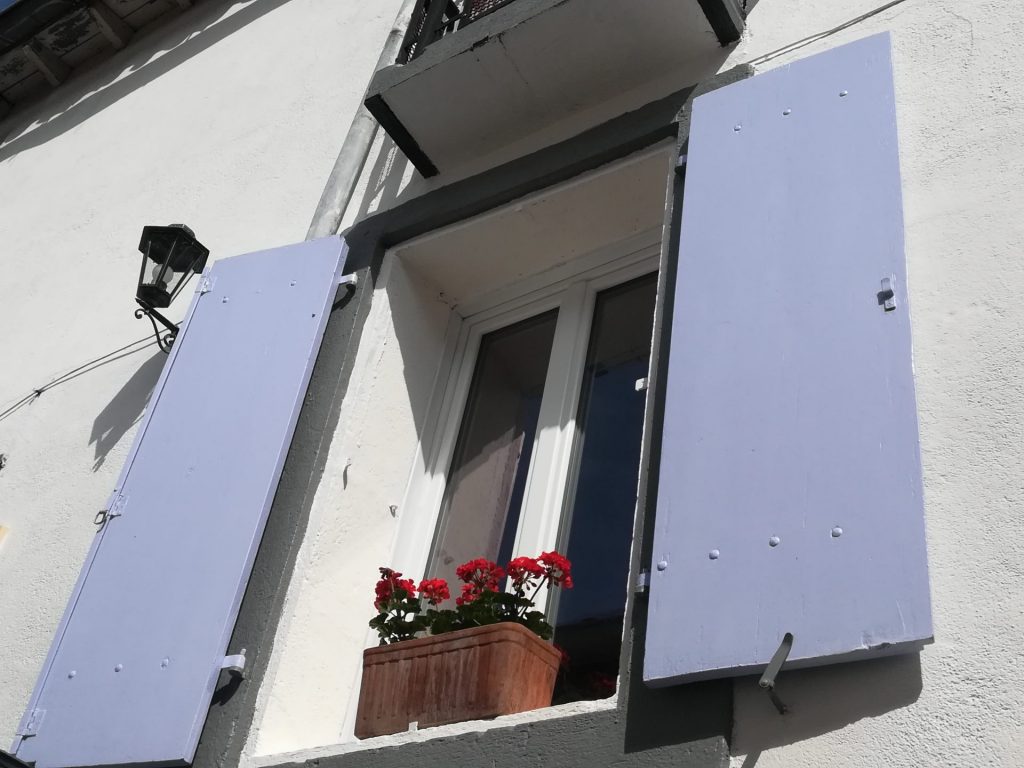 Jeg glædes over de mennesker, som troligt har holdt humøret oppe hos os, både med små hilsner, overraskelser og ugentlige telefonopkald.
Og så kan jeg jo kun glædes også over, at vi nåede så mange småting. Som en konsekvens af rastløsheden skiftede hotellets tørregård fra farven gul til hvid. De 'Brico-grønne' skodder, som Gert yndede at kalde dem, lyser nu op med deres lavendel-smukke farve. Indgangsdørene har fået lak, hotellet har fået den fineste sokkel, balkonen er malet, trappetrinene har fået vaskekant og meget andet dejligt er sket!
– Men det, som fryder mest er, at de 'forbudte' blomster, som har fået nyt liv – forbudte, fordi de er hentet uden tilladelse. Var vi blevet stoppet, havde vi – sandsynligvis – fået en bøde på 270€….det siger lidt om, hvor desperate vi var! Men nu pryder de hotellet, gården og det lille hus – masser af farver, masser af glæde og hver eneste dag taler jeg med dem, fortæller dem, hvor meget de glæder mit hjerte og fryder mit blik – jeg bilder mig ind, de kan li' mig.
– men… også 8 uger, hvor alt, alt for mange har mistet livet. Hvor mennesker har mistet deres kære og hvor andre har kæmpet for at komme tilbage til livet. Hvor verden har vist os, hvor skrøbelige vi er.
Det ville være skønt, hvis Coronakrisen havde ændret mennesket i sin grund – i hjertet og i sindet. Hvis vi alle blev ved at vise samfundssind og hjælpe hinanden. Desværre tror jeg, at vi alle – vil vende tilbage til hverdagen, når krisen er ovre. Igen vil vi nok gå mest op i hverdagens småting – som naboen, der ikke fik klippet hækken inden Sankthans, den manglende dækning på kontoen, benzinens prisstigning og ungernes institutioner.
– og måske er det også det bedste? – Jeg håber, ønsker og tror alligevel, at de otte uger har gjort en forskel!